CNN Election Night in America: 
Empire State Building Projections
CNN has a long history of being the go-to TV destination for Election Night coverage. In an effort to reach new audiences and break the fourth wall, CNN teamed up with Obscura Digital to physically project election results and voter imagery onto the Empire State Building. The intention was to be informative, innovative, and interactive by using real-time data, social activation, and 3D/VFX rendered art and photography to create a visualization and physical representation of Democracy at work.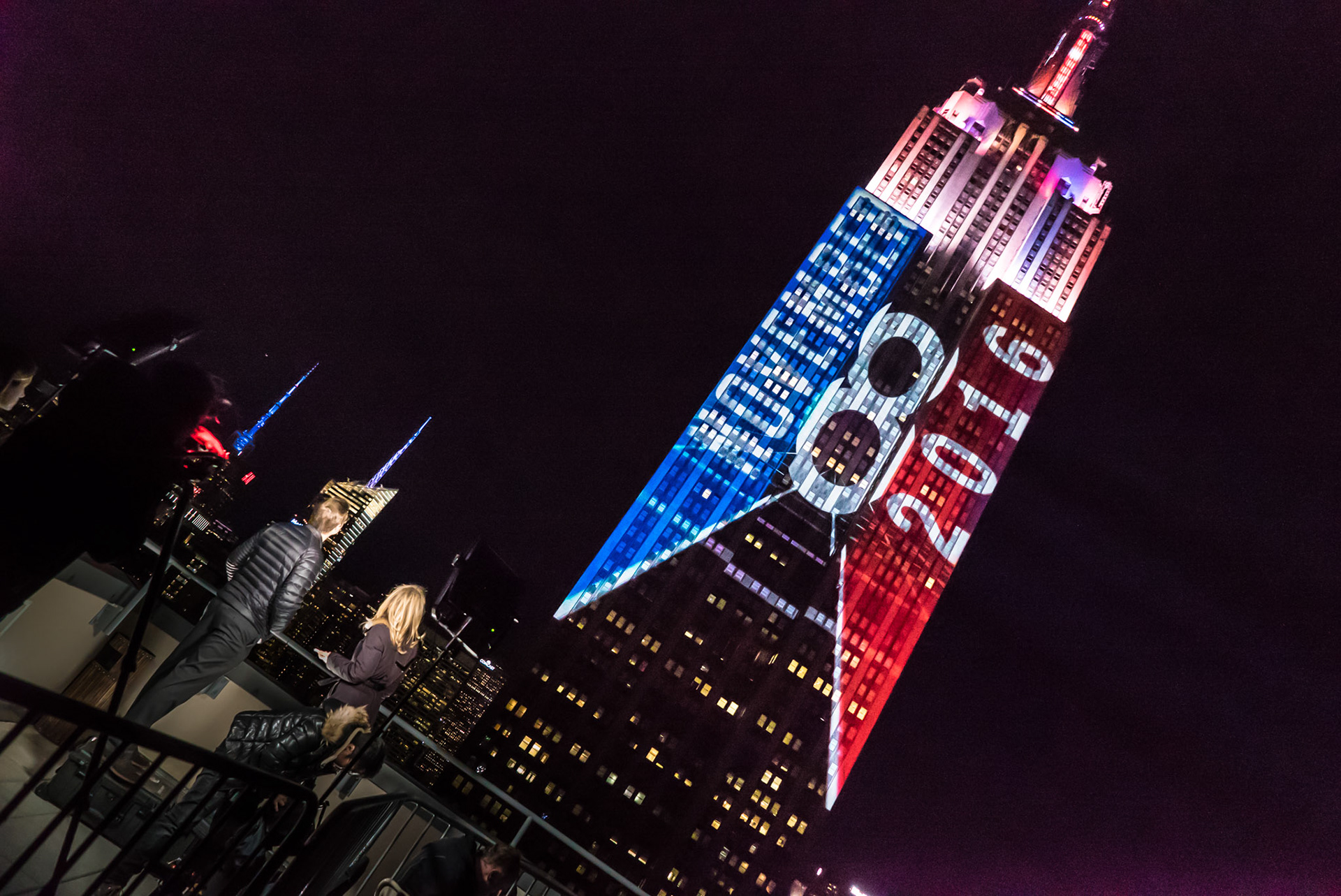 In partnership with Instagram, CNN collected and curated voter posts and data using hashtags. Images from voters were used to create mosaics of their respective candidate. Viewers were also kept up to date with accurate, real time infographics showing the delegate race throughout the night. At a glance, onlookers could immediately see who was in the lead by how tall their side of the building was. For the anxious, a countdown clock provided context when the next polls would close and when new results would come in.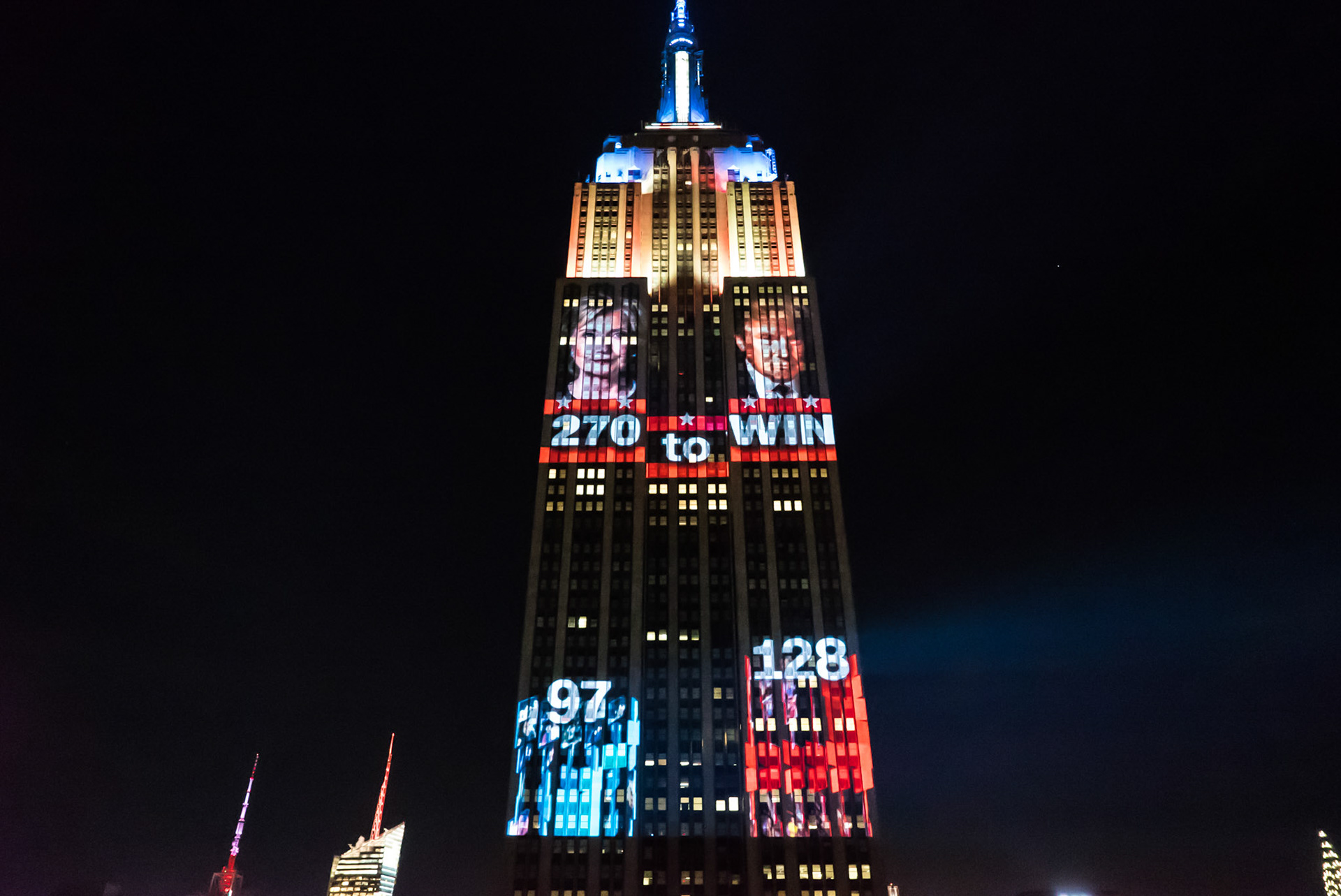 As states were about to be called, animations which traced the grid of the building were played to grab viewers' attention and generate excitement. People anxiously watched the façade as the states would animate from a neutral color to either red or blue depending on who won.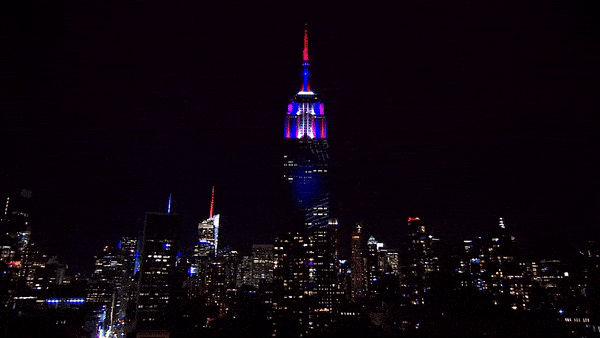 In between the moments that tipped the scales, viewers were treated to 60 pieces of original content which gave voters historical context on the night. From timelines of past presidents and accomplishments, to photography documenting the path of the candidates that led up to the night, to images of the voters themselves doing their part in shaping the nation, viewers were treated to a visual display that directly involved them in the night.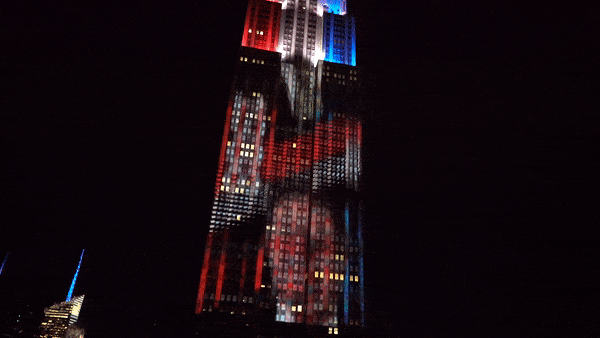 These displays were not simply projected onto the side of a building. The Empire State Building was meticulously scanned to have every inch and contour digitally mapped for custom designed artwork that felt as if it were part of the building itself. Windows lit up to track delegate counts, bricks and façades seemingly flipping over to metaphorically portray different sides of everything. CNN also took over the lighting grid on top of the building and orchestrated its own light show to sync up with the animations. The design and art direction spanned across months of prep, from taking and gathering images of the candidates and voters, to designing the actual content, to the building light show, to collaborating and designing elements for the broadcast sync and directing photography in helicopters to document the moment.
All in, the projections reached over 25 million, gaining press attention from over 24 publications. CNN worked closely with The Empire State Building, the NYPD, and the City of New York in order to display content on the 70,000 square foot canvas.
Projections done by Obscura Digital
Executive Creative Director/Producer/Animator: Jonathan Reyes
Executive Producer: Cullen Daly
Technology Director/Producer: Jonathan Tortora
Senior Vice President: Ed O'Keefe
Video edited by:
Jonathan Reyes
Footage Shot and Provided by:
C500 Aerials - Vincent Laforet
A7SII Handheld - Jonathan Reyes, Rob Sevila, Jonathan Tortora